Unleash Your Graphic Design Business: A Spectacular Grand Launch Guide
Having excellent marketing strategies is one thing, but if they don't result in anything then they're essentially pointless. It's the same with designs; if they're not effective in selling your achieving the goals you set out for them, then they might as well not exist. But what do you need to do when you're planning to market graphic design services? You need to combine the right marketing techniques and how to grow a graphic design business with amazing designs to make this happen.
In any modern business Graphic designing business is an integral part. Brands have realized the importance of developing cohesive, multi-platform campaigns.  A key element of this process is targeting customers across different channels and visuals. To start your graphic business You should focus on showing your potential clients. What you can do, rather than telling them about it.
What is the finest marketing strategy for a graphic design business?
How to advertise graphic design services? Before you start promoting your graphic design business, the best strategy for graphics 
is just to sit down and ask some questions to yourself. 
Do you want to work as a graphic designer full-time or only part-time?
Are you just starting to look for clients, or do you want to bring in more new clients?
Are you experienced in any particular type of graphic design?
Do you have a background or skillset that would help you excel in certain niches?
 For example, consider what your goals are. When you know your goals, it'll be easier to target the right audience. Do some research and figure out who would need your services the most. Knowing this information will help you better understand who your target audience is and how to cater to their needs.
How to market graphic design services?
For small business graphic design, it's important to use a mix of effective marketing techniques and amazing designs when marketing graphic services."Show more, and tell less." is the best method of marketing graphic design services. This means that you can let your work speak for itself. 
Find your market
Create an attractive portfolio
Online portfolio makes a huge difference
Start from a small business
Work deliberately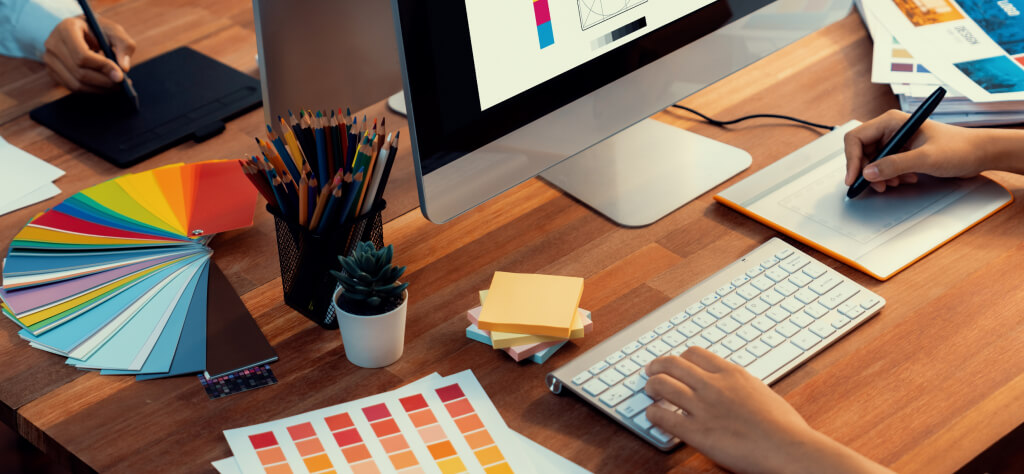 By doing this, show potential clients why they should use your services. Social media posts, email campaigns, and general blog content should ideally all incorporate high-quality visuals that intrigue customers and invite them to learn more.
Ask Yourself About Your Skills
First of all, you need to have a clear understanding of your skills. Take a few hours, to write down what makes you passionate about design. Passion plays a great role in every business. If you're not passionate enough, you may run out of steam very quickly.
Passion and skills are often tied together. Let me tell you that the graphic design business is super vast and you don't want to offer every single type of graphic design service that exists under the sun. You might opt for a few of them though.
Take the time you need to analyze what you love designing, what level of design will you be able to deliver, and so on. Because this will determine how much you will charge for your services.
Choose A Niche That Seems Interesting
Well, this one is a bit of a controversy. I will share my opinion on why you should choose a niche for your graphic design business and also why as a beginner, you shouldn't choose a niche.
As an experienced graphic designer and owner of a digital agency, I know what I'm telling you here! You're the only one who should decide which path you want to take.
Is It Important To Choose A Niche When You Start A Graphic Design Business?
Well, if you want to contact enterprise clients and big corporations and have the earnest desire to make money with graphic design, then niching down will be very profitable.
Corporations are keener to work with people that have experience in their industry.
Why are experienced people preferable?
Big enterprise clients have the budget to spend on graphic design needs. That's what makes them very demanding. Consequently, they are always on the lookout for someone who has already worked for another company in the same industry as them.
Let's say you've reached out to a law firm, I can assure you the first question they'll ask you is "Have you done this kind of job for another law firm?" If you've never worked with another company in the same industry, they'll see you as "unfit" for their project.
They will immediately think you won't have the necessary knowledge or expertise to deal with their pain points and specific needs. Do you get my point?
Why Not Choose A Niche?
Well, if you're looking to make money as a graphic designer, sometimes you have no choice but to take on every project that comes your way. If you need money, I won't tell you to stick to a niche until you find a client in the aerospace industry for example. I get you!
So then you want to go a bit broad in your niche selection. At this stage, you might want to take on different projects from different industries to get the experience and the money of course.
Only after getting your hands on a few projects and feeling a preference for a certain niche to work in, you can then start niching down and choose to offer your services to one or a few specific industries.
Role of Portfolio
A portfolio is one of the most essential assets in your hands as a burgeoning graphic designer. Without a portfolio, say goodbye to clients, projects, and money. I don't have to tell you that your prospects will always want to see your past work.
Since every prospect has a different taste, they just won't pay you to design something for them if they don't know your design style. Having a professional portfolio is, therefore, a good way to attract clients and close design deals.
Potential clients will get in touch with you if they like what they see in your portfolio. So, that's why it's important to have an amazing and updated portfolio.
Portfolio tips that will make you represent yourself better:
Use Photoshop Mockups to showcase your artwork like a pro (Don't just put a logo design on a black or white background and upload it to your portfolio – clients will close their eyes)
Upload your best works (Don't just upload a bunch of random artworks but choose the best ones)
Document your uploaded artwork. (Briefly explain the project, how you came up with the concept etc…many prospects will judge you on this)
Displaying your artwork online is a MUST if you want to make money as a graphic designer.
Get exposure, connections, and clients by showing off your skills. Try to get your artwork on a few platforms for graphic designers such as Behance and Dribble.
When I first started with graphic design, almost my paid projects came from Behance!
Have A Website Of Your Own
If you want to get serious about your graphic design business, getting your website live is a must. A portfolio on Behance won't cut if you want to land big clients! And if you want to serve big clients, you've gotta look professional.
Your website will be your personal space to which you want to attract your potential clients. Your website is not about showcasing your artwork only but it's, in fact, a strategic tool in your hands for business growth.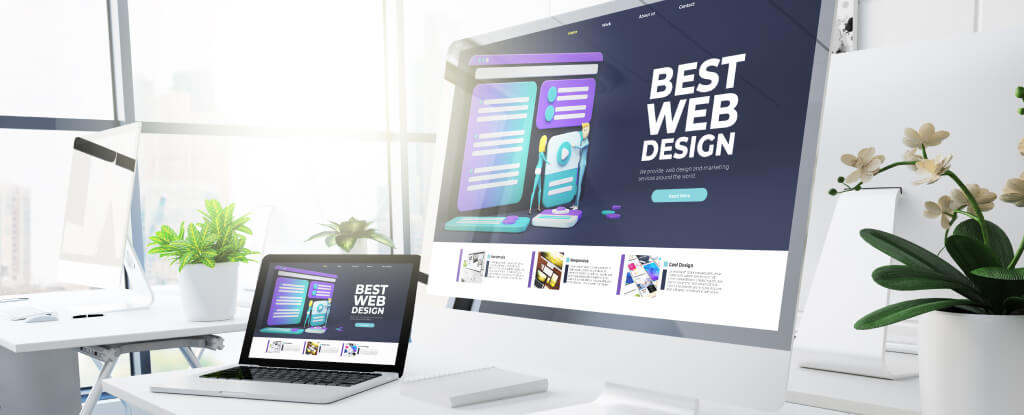 Get Inspired By Professionals
Moreover, another thing that will help you as you're starting is to take inspiration from those on the high end the experts!
By any means, I'm not saying you should copy their artwork. But instead, see what they are doing, try to find where they are succeeding, don't be afraid to reach out to them to ask questions…
If you've already chosen a specific design type, look for a few experts in the same area and analyze them from every angle. You will see this will have a positive impact on your future graphic design business.
Equip Yourself
After getting your mindset ready for the big plunge, you need to invest in your materials. As a graphic designer, you will need a robust design system that won't let you down in the middle of a serious project.
Before choosing your pieces of equipment it should be already clear enough what type of design services you want to provide. You don't want to spend money on stuff you won't use! For example, let's say you want to offer logo & brand identity design services, it's unnecessary to purchase the Adobe Creative Suite.
Photoshop & Illustrator will be enough for this purpose. As per your services, make a list of all the types of equipment you'll need and please choose the best…I can't stress enough the importance of quality in graphic design tools.
Join Communities And Make Connections
There's one stage in the life of every designer that is both good and bad: loneliness. It's true that when you're freelancing, you'll tend to isolate yourself from the rest of the world. But it's not always a good thing in my opinion.
That's why I encourage you to get involved in business network events and join a few communities of designers.
This is crucial for two reasons:
Business networking can get you your first projects – meeting influencers in the industry has a lot of benefits. Why not take advantage of it?
Connecting with other like-minded people can inspire and lift you when you're stuck somewhere.
So, if you're serious about starting your freelance graphic design business and looking for ways to make money as a graphic designer, join Facebook groups, and online communities for designers or participate in forums around graphic design.
Set Up A Proper Marketing Plan
Now it's time to look for your first clients because no one will come to find you. When you've just started, it's your job to go get your clients. Therefore, setting up a solid marketing plan should not be overlooked.
Nowadays, there are lots of channels that you can leverage to find your ideal clients. But first, you need to build your marketing strategy. Developing a marketing strategy is what will bring you a consistent flow of projects and who says projects says money, right?
Conclusion 
There is a lot of competition in the business industry, and if you want to get your Graphic Design Business you are going to make a grand entrance to set yourself apart from the rest. Preparing a graphic design business is a very tough job. It requires a lot of research, work, and a lot of patience. 
The most important thing which is required for a graphic design business is a good plan. A good plan is required in the first place and it should be followed in the same manner. You will never get successful if you don't follow a proper plan. Here are some tips for you to get successful and make a grand launch of your graphic design business in 2023.