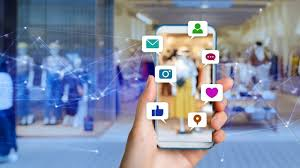 Social media has taken over the internet, becoming a necessary part of digital marketing. With over 3 billion users worldwide, it's no surprise that social media has such a large influence. However, just because there are a lot of people using social media, doesn't mean it's easy to use it for marketing.
Success in social media depends on users. New platform habits come into existence, and their habits are changing. So many changes to catch up on, and so many channels to manage, and it can be pretty overwhelming for social media managers. But don't worry, we've got you covered with the best tools for social media management.
A social media manager is responsible for a company's online presence on platforms like Facebook, Instagram, LinkedIn, Youtube, and Twitter. They create content, schedule posts, engage with followers, and analyze data.
In other words: social media managers are the people behind a company's online face. Creating a strong social media presence requires many moving parts and a lot of coordination.
is more than just posting on your company's accounts.
Then you'll need to create content.
Engage with your audience.
Give ways to increase visibility and reach more people.
What are the techniques of social media management?
Being a social media manager requires more than just time and effort. It also demands wise decision-making and a significant investment. If you want to be the best of the best, here are a few tips to help get you there:
The first thing is quality
Analyzing and data tracking
Automating repetitive tasks (Improves efficiency and accuracy while freeing up employees to focus on other tasks that require human interaction)
Try to use essential tools
1. Buffer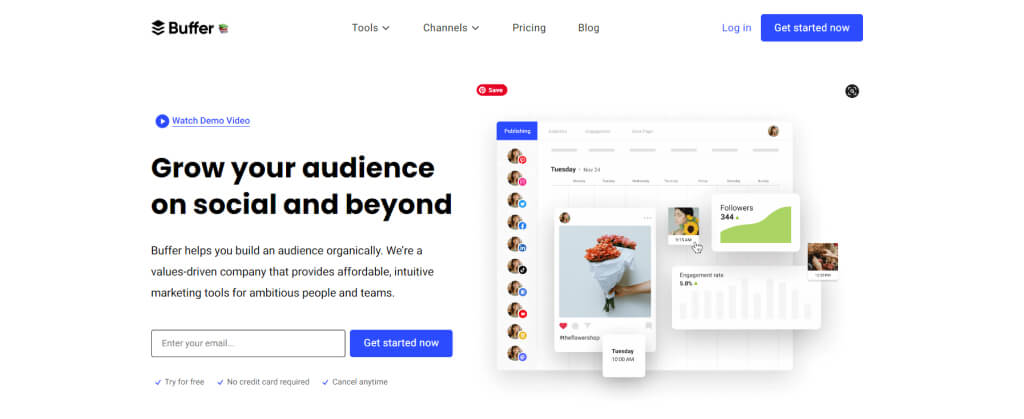 Buffer is the best social media scheduler I have ever seen. This tool helps you post photos, blog articles, videos, or anything on your social media, adding a specific time to share your content. It helps you to update your social profiles at once.
Buffer social media tool is available for both Android and iOS and the web for easy use. The free version is limited by adding three social accounts on Facebook, LinkedIn, Instagram, or Twitter. You need to get the paid version to unlock more features, including advanced analytics.
2. Hootsuite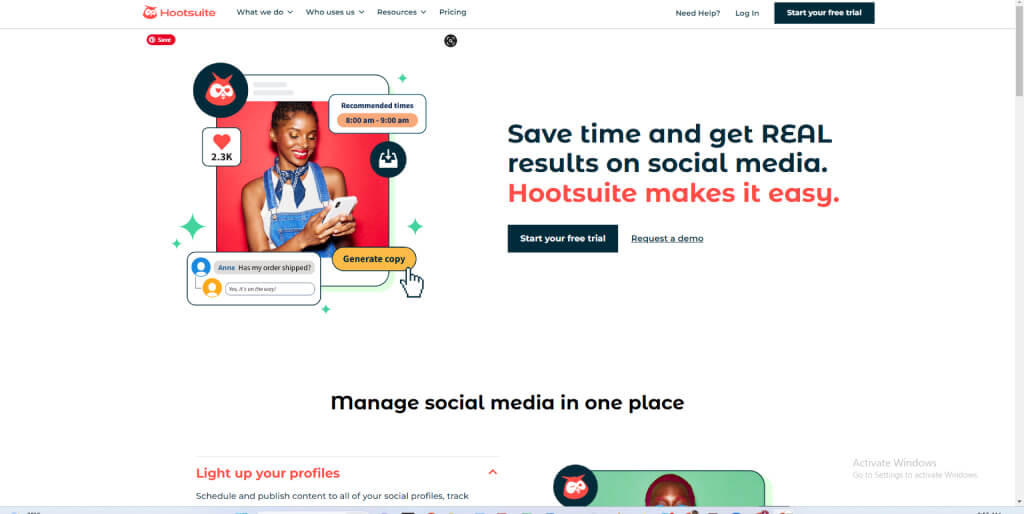 Hootsuite is another one of the best free social media management tools to create content and manage your business efficiently. Their social media dashboard is a cool one. It will help you track, schedule, and manage a lot of activities.
This tool is perfect for Twitter users to manage their content quickly, and paid plans have more features to run your online business smartly. Furthermore, you also get an app directory to get more engagements with customers. This includes automated and human responses to answer user questions.
3. Canva
Who can deny the importance of well-designed graphics to get more and more importance on social media?
It can help you quickly grow your social media game on platforms like Pinterest, Facebook, and Instagram. If you are having any trouble with graphics and image needs, Canva is the best answer.
First, sign up for the Canva PRO 30-Day FREE trial to get all of the Canva features to create your graphics using their huge assets library.
Moreover, It's best to create Social media graphics, including Facebook ads, Twitter posts, Pinterest graphics, YouTube thumbnails, and everything for your needs.
In Canva, you will find a lot of templates that are related to so many social platforms (the famous ones obviously) to create and edit images with their elements. This tool is free to use, but you can enhance your experience with the pro version of Canva for the best results.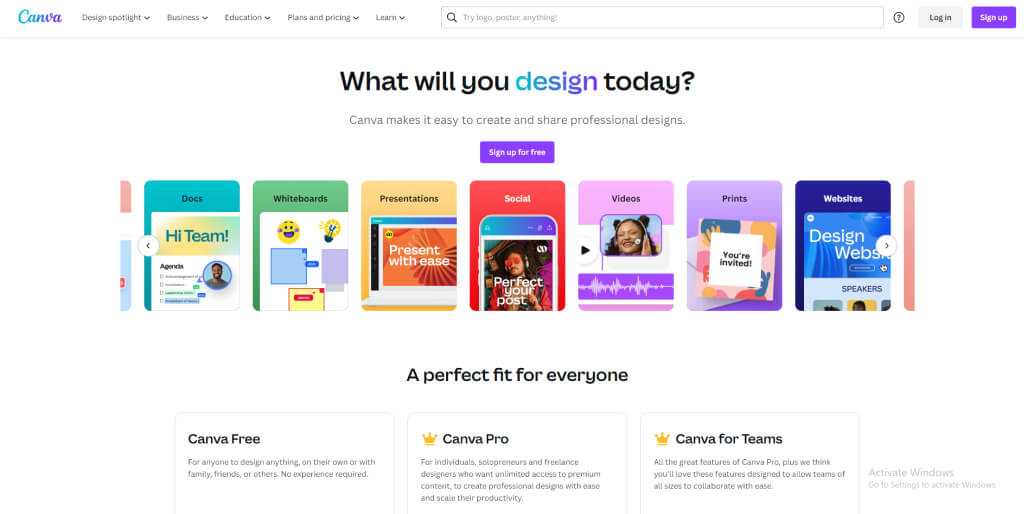 4. Later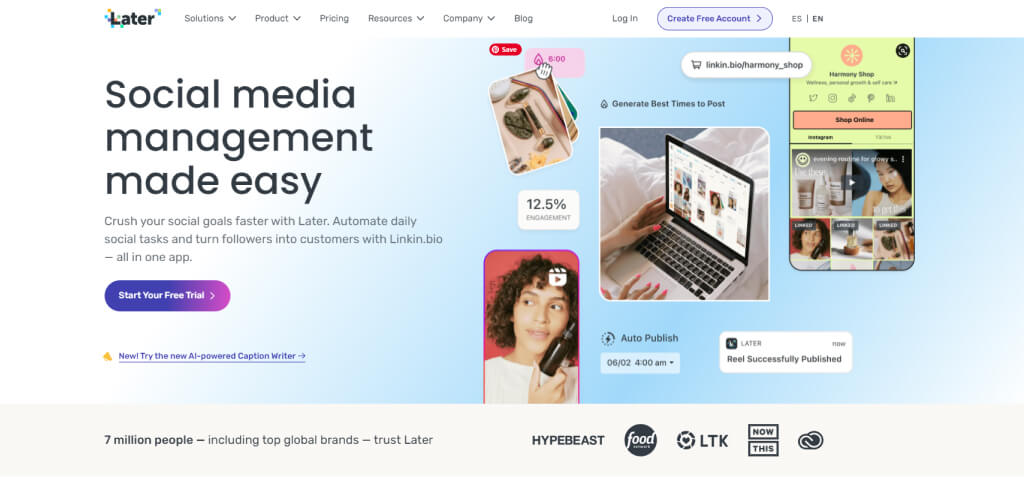 Later is another free feed planner for Instagram. It enables you to plan your Instagram with drag-and-drop features, adding your posts. Additionally, Later allows you to sync photos and videos from your phone, desktop, Google Drive, or Dropbox in a few minutes.
They are offering plans for an Individual-free forever that lets you schedule up to only 30 photos for one social profile per month. Or you can choose paid plans for more features. If you are an Instagram influencer, Later is the perfect tool for you to plan your daily feeds.
5. IFTTT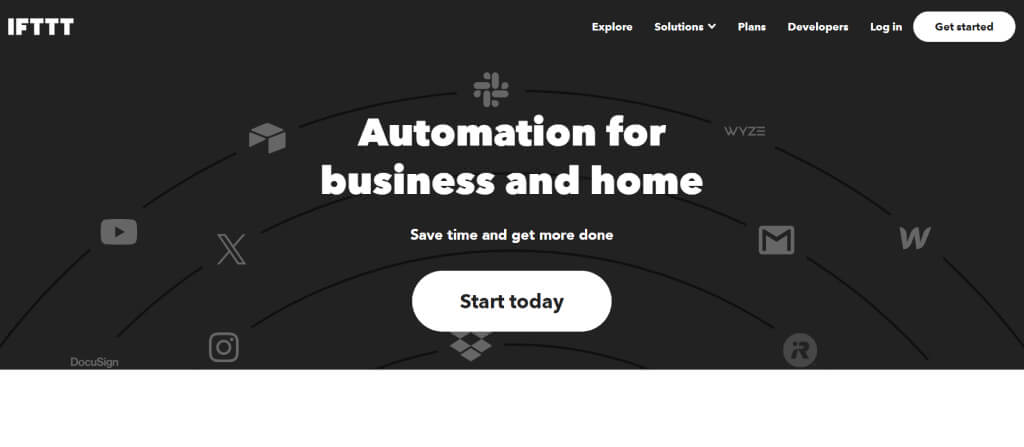 IFTTT (If This Then That) is an awesome creative platform that is used for social media engagement and even home automation. So, it is not only for social media. You can fully automate your daily work through this platform. In this case, You can use it to build a connection between different apps and devices to make them automated.
What doesn't it have? It can automate your devices, do your social media work, handle emails, and many more. You will see a boost in your productivity by using this tool. And yes, it's free!
If you are having trouble with using IFTTT, see the "How to Use IFTTT" guide to automate your life and business for free.
Conclusion
In today's digital age, having a social media presence can be a vital part of your business. You can use these platforms to build brand awareness, increase traffic to your website, and grow your audience. All of this can help your business grow. But managing your social media accounts can be difficult and time-consuming.
Luckily, there are many tools available to help you manage your social media. This blog post should help you learn about some of the top social media management tools. We hope you find this post helpful when it comes to deciding which social media management tool is best for you.