Unlock Your Creativity: Top Free Design Resources for Commercial Use in 2023
Design projects often come with a lot of challenges, one of them is creating and gathering all the assets needed to bring your project to life which is a tedious task. It is a crime in 2023 if you are not maximizing the available resources in the field of graphic design.
There are tons of platforms out there that provide a much wider range of options for creators. Whether they're established enterprises or just starting out as freelancers. The best platforms to find free design resources are versatile tools that can come in handy in a variety of situations.
Purpose of Free Design Resources
The purpose of using the design is clear about what you stand for and who you are. Both as an individual and as an organization. It is very hard to find free design resources because most of them are paid.
As a beginner, you should go for something unpaid or free. Because these free resources are for fun purposes and learning. Your designs will need some additional help such as GIFs, elements, icons, etc.
When working for commercial purposes, it's generally good to use paid platforms. There are still some great free design resources available that can help you create wonderful designs and be successful in 2023.
Here are our top 7 picks for the best free design resources that you can use to help you achieve your design goals.
Canva
If you want to make some infographics or social media posts quickly for your brand, there is nothing better than Canva. Though it is a paid tool, a free version includes many resources to help you with your design.
There are templates available for each social media according to their dimensions. You will find it very user-friendly and dynamic while designing your posts. Generally, Canva is used to create large infographics and banners but it can be used for almost anything that is related to graphics. You can either start building your design from scratch or work on an existing template as there are many.
Features
Let your creativity shine with Canva:
Easy-to-use

Drag-and-drop editor makes for customizing.

With over 250,000 free templates and 100+ design

1+ million free photos and graphics

You can invite others to collaborate with you on your design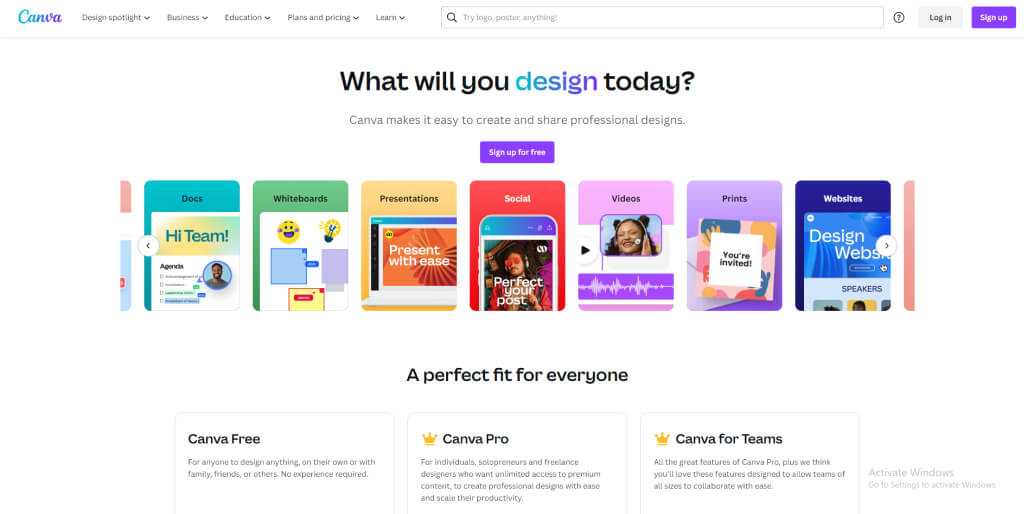 Design Bundles
Do you want some cute and amazing free graphic resources for your design? Design Bundles is the best answer for you. Design Bundles is a one-stop shop for all your design needs, offering sets of design assets at either free or highly reduced rates.
It has a page dedicated to showcasing its current selection of free design resources. One great thing about this platform is, there are new resources added frequently to their collection. The more you browse, the cooler stuff you discover.
The deals that are found on this platform often expire. So, make sure you make a copy or download the resource you want to use when you find it.
Features
Versatile design scape

Provide free design resources every week

Free marketplace to sell products

For paid version get a discount on every time subscription


Freepik
Freepik is one of the largest online collections of free vector art, images and icons. The site offers a range of content for personal and commercial use, provided the user attributes the website or designer.
With a vast library of free resources, Freepik is an excellent resource for designers and creatives looking for high-quality visuals. It is an excellent resource for all your design needs.
You can explore trending images, designs, and mockups worldwide.
Features
Several types of visual content that you can use.

Make your project more visually appealing.

A variety of Backgrounds, textures, vectors, illustrations, and patterns are available.

Drawings and clip art can add interest and variety to your project.

Silhouettes can also be used to create a more dramatic effect.


Icons8
Every graphics designer or web designer feels the need to use icons in their designs. For including great icons in your design, Icons8 is a lifesaver. It is a storehouse of free icons, photos, and vectors that helps your design look fantastic. 
Designers love Icons8 because of the consistency it brings to the table. Their elements are good-looking, dynamic, and customizable according to your needs. Among the various formats they provide, you can have their elements in SVG, PNG, JPG, GIF, or even in HTML form.
Icons8 is usable in free mode, but you can also go for a paid subscription depending on your needs. They also provide music files for you to use if you purchase a paid package. Their terms and conditions are suitable for students and individual users. For commercial purposes, I recommend buying a package.
Features
A platform with a huge range of illustrations.

Both at the free and paid level.

They're constantly releasing new tools and illustration collections,

There's always something new to explore.

it is very affordable.


Font Bundles
Fonts are a great way to express your brand and easily connect with your target audience. It is very important to choose the right brand for you that reflects your purpose of marketing. This very platform is well known for offering a huge variation of fonts to its customers.
Just sign up for an account and you can download their premium fonts from the collection.
Font Bundles sends their customers a free font treat every week. Don't forget to grab that if you open an account. It is a great platform for you to use for commercial and personal purposes.
Features
Provide fonts in a particular bundle.

They generally use a theme.

The bundles are handy contextually.

They give you lifetime support for any purchase you make.

Extremely quick in responding to users' queries.

On the basis of the highest quality, their font bundles are put together.

Professional fonts designed by the best font designers.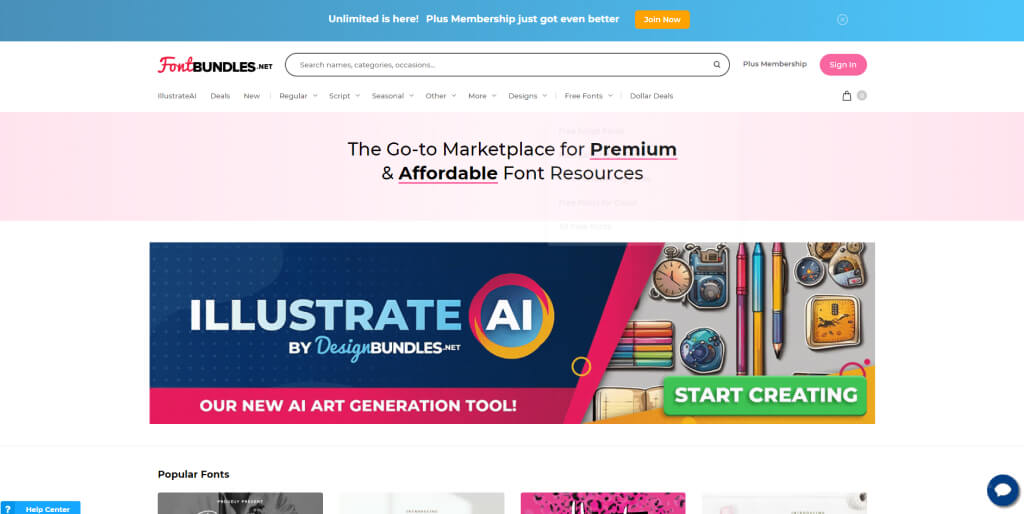 The Hungry JPEG 
It is a nice collection of fonts, mockups, illustrations, and stock pictures. Hungry JPEG offers freebies to download that include free amazing graphic design resources. You can consider them home to the best quality premium bundles, graphics, vectors, etc. 
It is totally worth it to buy a package but the free version contains a wide range of designs, so the choice is yours entirely.
Features
Short on budget.

Provides high-quality visuals and graphics.

Affordable image and graphics options.

You won't have to skimp on quality.


Infinite Design
Infinite Design is a mobile app design tool available only on Android.  For freehand graphics and creating custom work directly on the mobile device, this tool has a pen tool that designers can use with Infinite Design. This app is a great tool for designers and beginners who want to experiment with vector images. You can create or export files into JPEG, PNG, or SVG. 
Features
An infinite canvas that you can pan, zoom, or rotate

Intuitive path editing

Experiment with four types of symmetry

A streamlined interface

it can translate, scale, rotate, flip, distort, and skew

Import and export SVG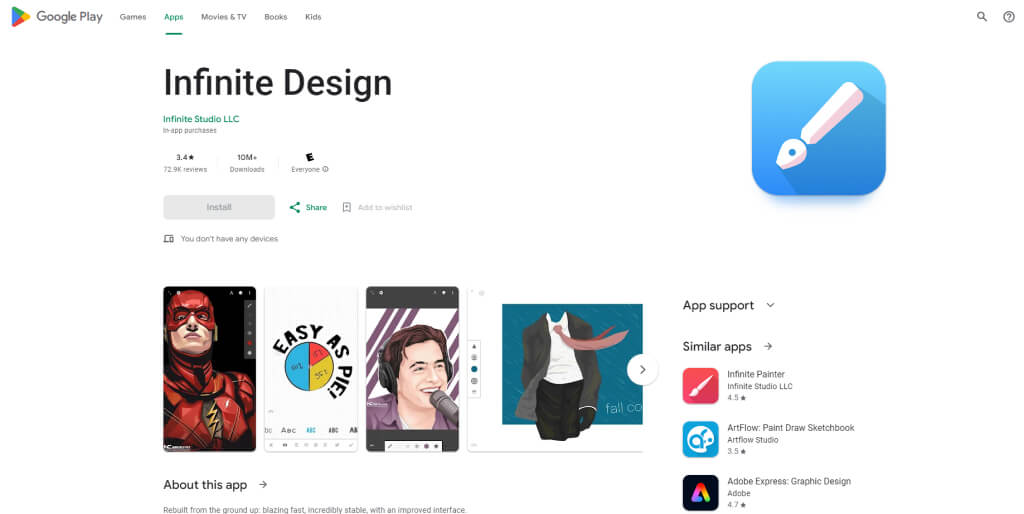 Conclusion 
Here is a list of some of the best free and paid graphic design software tools that you can use depending on your budget and the features you need for your work. If you're a lone freelancer, you should stick to free resource tools for creating graphic design outputs.
However, if you're highly proficient in graphic design, you might need the most efficient and creative features. The premium and free options are available for you. So, think about what works best for you and select accordingly.