Top 10 UI Trends to Follow in 2021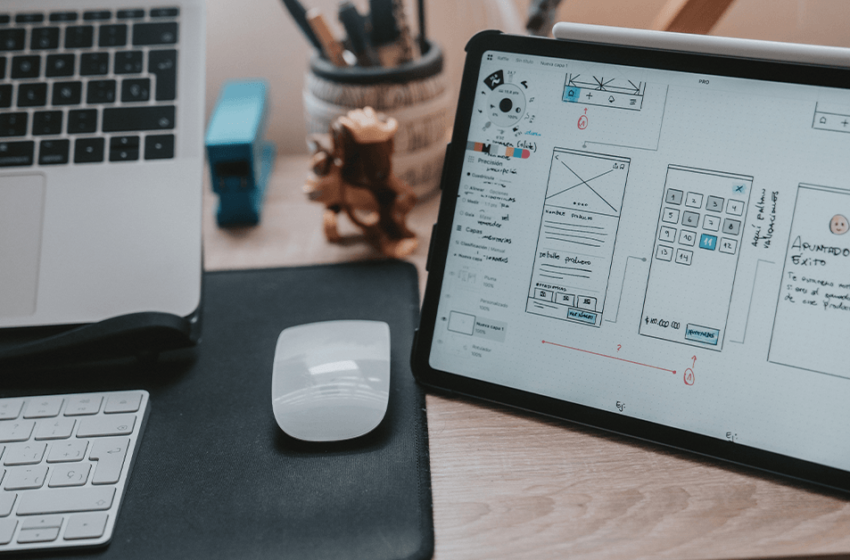 Every day, users visit tons of websites, so businesses have to show extra imagination to get them to pay attention. In order to keep customers on their website, entrepreneurs emphasize the visual appeal and usability of their solutions. In addition, they keep an eye on the newest UI trends in order to dominate the market.
Following the latest industry trends is an important part of making a great web design. Using these industry trends will make your web product stand out amongst the competition. There is no point in modifying your approach to trends and best practices from 2019 and 2020; you need to be aware of what is likely to be popular in 2021 and prepare to wager on them.
Throughout this post, you will learn the top 10 UI design trends that will dominate in 2021.
1. Minimalism and decluttering
One of the latest trends in user interfaces is Minimalism. People watch a variety of advertisements, get notifications from discount ads, and receive frequent reminders. Moreover, they interact with multiple interfaces that overload with information.
In order to avoid such overload, designers always look for ways to simplify their graphics in order to minimize the use of colors and find the right proportions and compositions.
In the present day, consumers place the highest importance on functionality when making purchases. A product's best attributes must be highlighted and the right emotions conveyed to customers. Decorative elements become obsolete the moment designers utilize them as decorative elements.
2. Simplified user experience
Try not to complicate your user interfaces and make customers take extra actions in 2021. Keep your forms simple and concise. Simpler sign-ins and registrations became one of the major UX trends of recent years. In fact, users simply enter their phone numbers when logging into their marketplace accounts. They no longer need to remember yet another password.
By following this trend, Apple created a custom button that helps users avoid extra registration steps. By clicking the button, people can choose whether a website is allowed to see their email address. A moment later you are already signed in.
Keeping with the new trend of simpler user interfaces, IFTTT avoids unnecessary signup steps with a streamlined design.
3. Mobile-First Strategy
Today, more than half of the Internet traffic is viewed on mobile devices. Nowadays, most people prefer to use their mobile devices to browse the Web rather than use PCs or other desktop computers. For example, when they visit travel marketplaces when they are on the road, they might need to find a place nearby to chat with an old friend or to make a trip booking on the fly.
Progressive web apps are the technology most affected by this mobile-first approach, and nowadays it is a must for any business owner to understand how PWA works.
4. Colorful, blurred background
In the past, gradients have been used in different ways in UI, and they can still be considered relevant today.
A current trend is to make gradients lighter, while at the same time making them more complex. In the past, designers would use only a couple of colors in linear gradients, but today it is possible to have as many as ten colors. Also, transparent overlays are added.
Since they are so colorful, such gradients can cause a temperamental outburst. Designers from many famous companies like Stripe or MyMind like using them.
5. Unique 2D illustrations
Despite their current popularity, illustrations remain one of the common trends on the user interface. However, they are less generic than before. When it comes to illustrations, web designers used to adhere to minimalism. This way, they attempted to make web pages simpler to read.
Today's designers experiment with unusual angles, proportions, and storylines. They use colorful illustrations in addition to muted pastel colors. Graphic designers are producing fancier illustrations than ever before.
SVG is the best format to use for your illustrations. PNG, GIF, and JPEG images are getting worse in quality when the screen resolution is increased, while with SVG the resolution can be progressively increased and decreased without affecting the quality.
6. Voice User Interface (VUI)
With the diffusion of voice UI, the world realizes that design is not limited to visual components alone. It could be found among the top web development trends for 2021.
Now users can use voice user interfaces with their apps and websites more efficiently. Clicking a button or recording their voice for machine learning will create a voice recognition system.
7. Icons
Today, minimalistic icons that compress functionality into recognizable graphics are gaining momentum, demonstrating the strong connection between the image and the functionality.
It's important to select icons that are the same size and belong to the same icon family. When you select the style for your website and remain true to it, it shows professionalism and loyalty to your customer.
8. Onboarding
With onboarding, you learn key aspects of an application and discover the best ways to use it. It also assists you in understanding its key functions. No one could argue with the fact that onboarding is a strong trend in UI.
One view is that onboarding is a sign of bad design, suggesting something is wrong with the product's description or design. Furthermore, it forces users to put time and effort into it. Today, modern onboarding screens are the most crucial screens of the app. Users get to know the app's capabilities through these screens.
9. Catchy typography
The Internet makes it easier to consume only the most essential information. Since people do not like reading too much text on the Internet, they only scan the wordings.
Typography plays an important part in the process of creating a web application.
10. Glassmorphism
There were widespread neomorphic design practices in web design last year. It combines two common design approaches to user interfaces. These approaches are skeuomorphism and flat design. These UI trends differ significantly from one another and are sometimes considered to be opposites.
The trend is known as glassmorphism in 2021. This comes from the blur effect, also known as blurred background. People seem to think that they are looking through the glass when they look at this element.
Final thoughts
2021 is expected to bring significant changes in UI/UX design, such as the introduction of minimalistic user interfaces, creative typography, and tremendous 3D visuals. These design trends should be used to develop software that provides users with a pleasing and unique user interface.